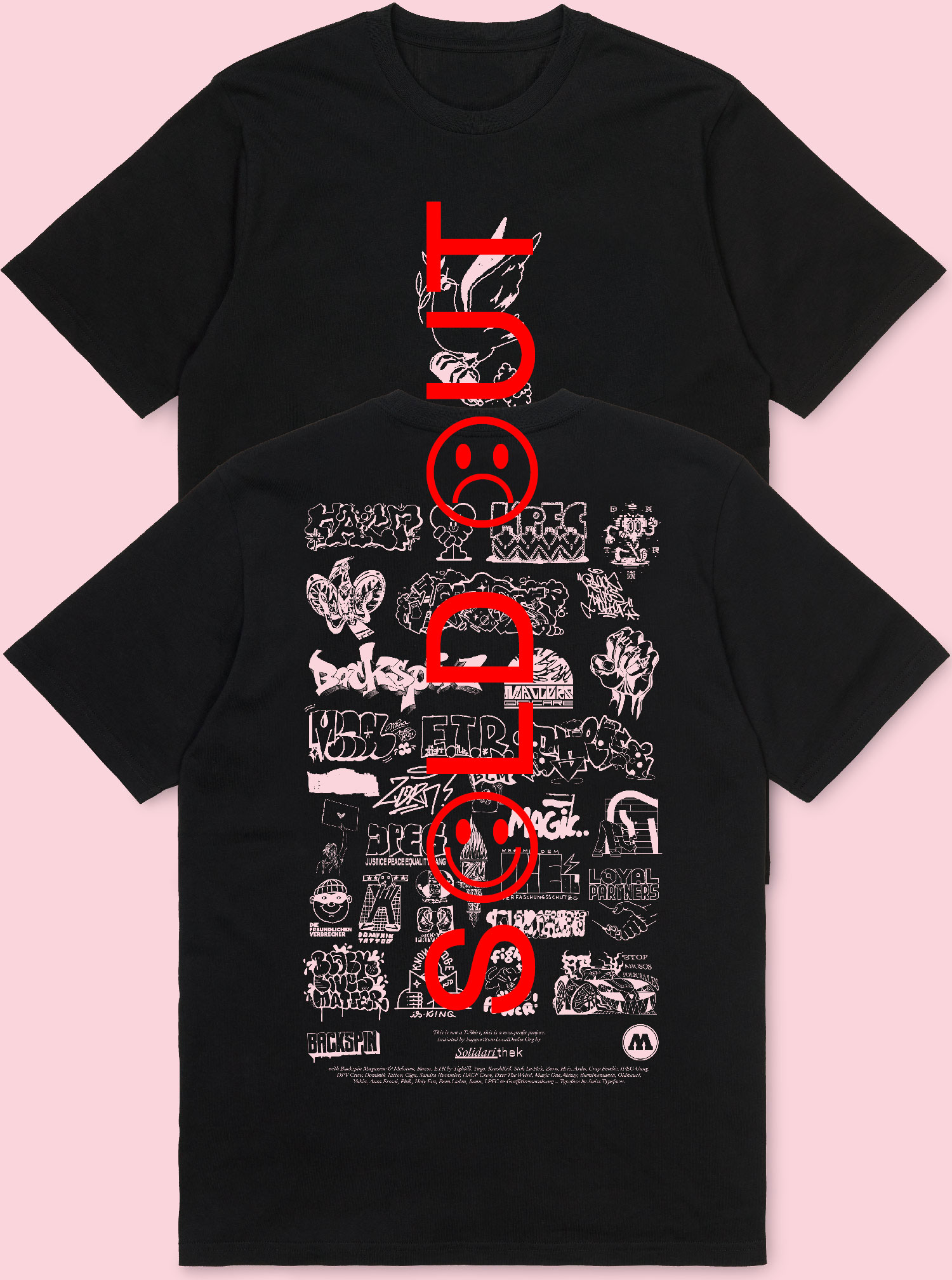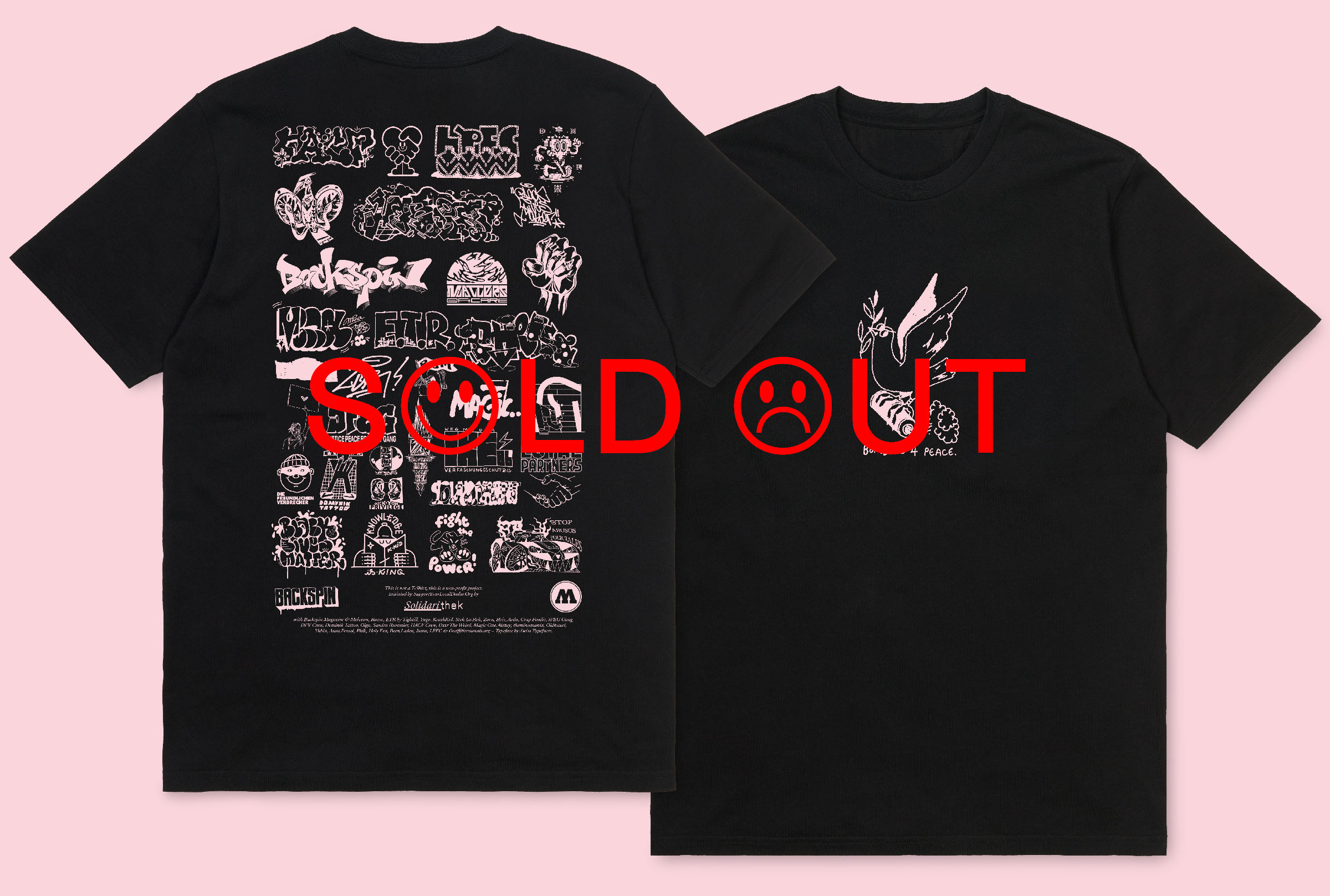 Info: For upcoming orders from Dec, 12th 2020:
No delivery until Xmas 6-8 Weeks Delivery Time
Voucher We prepared a print@home voucher for you to give as a pre-present: here <3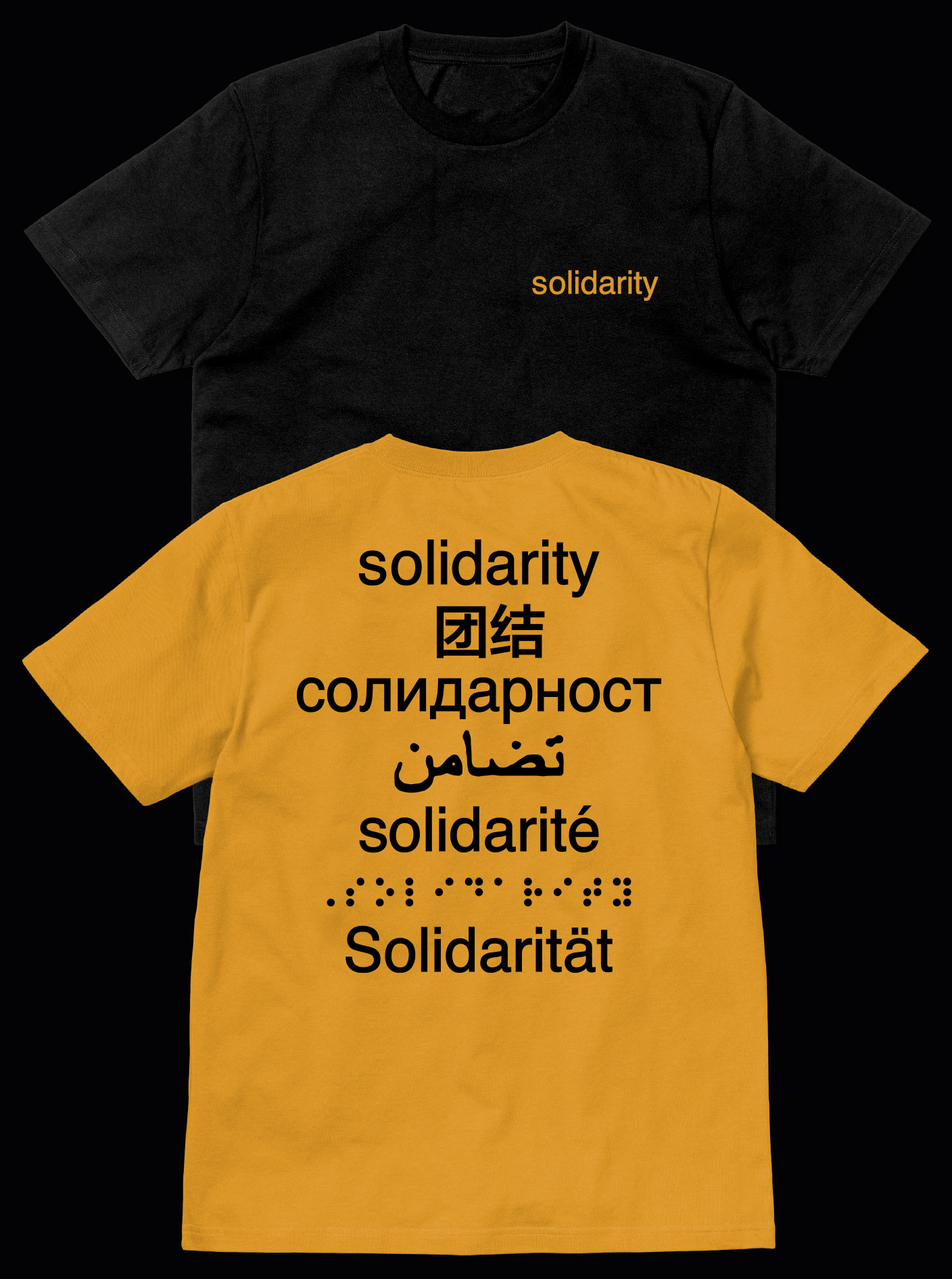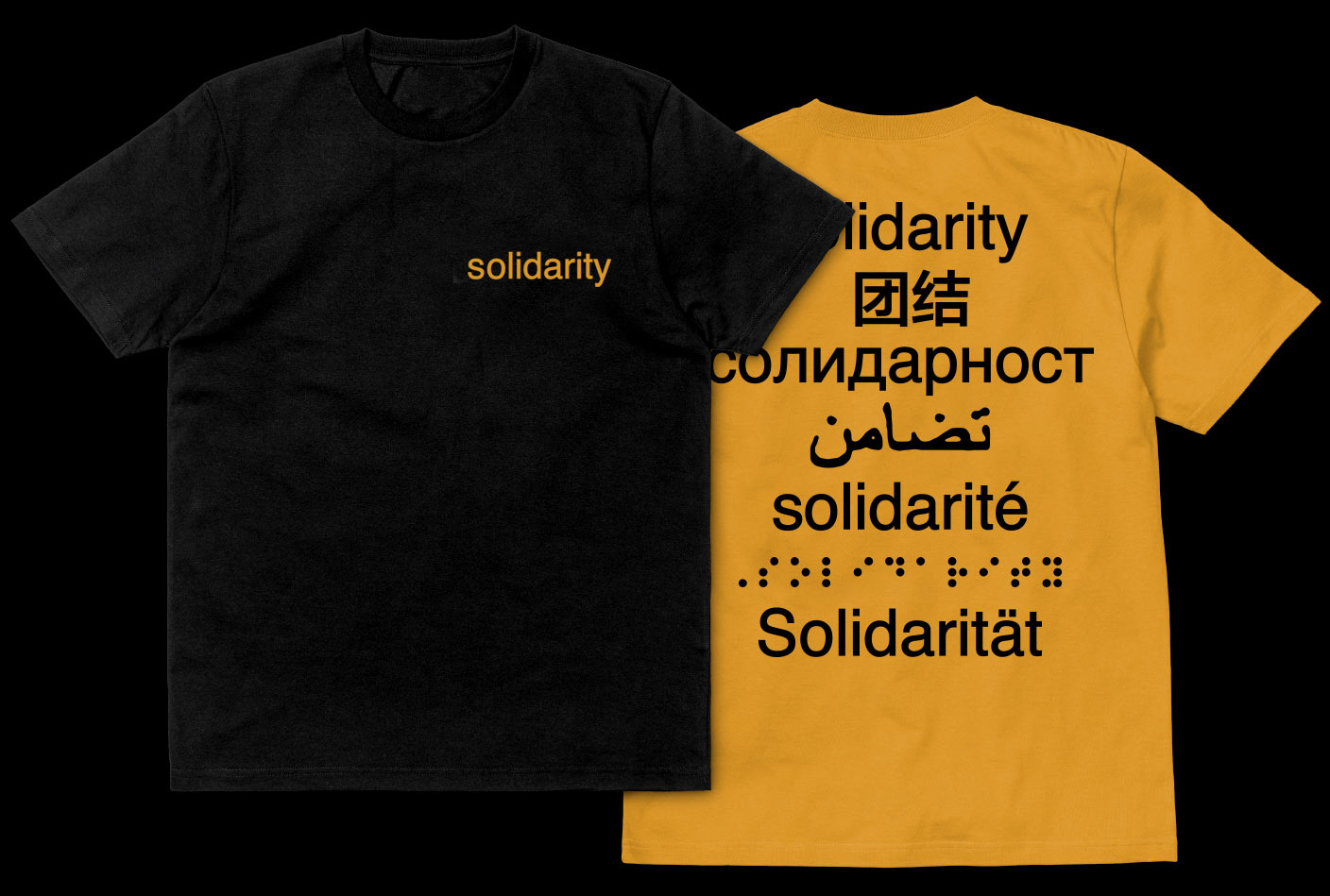 Wear it as a moving poster
Download print files and
donate
here
Information
This T-Shirt is a non-profit project. Support NGOs, small business owners and people in financial need now. All profit is shared equally among the supported business and projects you find below.
Where the money goes
We want to stay transparent, so that you know where your money is going to!
The collected profit will be divided in equal parts (exclusiv us) depending on the number of supported projects you find below.
T-Shirt = 30€
Includes:
15 € Production costs (print & colors, fabric & organization)
+ 15 € Financial support to the listed projects below! (minus taxes)

Printed in Berlin on fairtrade fabric
Supported Projects so far
–> "BOMBING 4 PEACE" T-Shirt
Amadeu Antonio Stiftung (Berlin), BLM Together We Push (Düsseldorf), Projekt Tracksrunner, Verband BRG (Berlin), Mission Lifeline (Dresden)
–> "CLUB SOLIDARITÈ" T-Shirt
BLM Together We Push (Düsseldorf), Rave Awareness Team der Club Commission Berlin (Berlin), Mission Lifeline (Dresden), fiftyfifty Strassenmagazin (Düsseldorf)
–> "SOLIDARITY" T-Shirt
Spouts of Water (Uganda), Arts Of The Working Class (London, Berlin), Mission Lifeline (Dresden), fiftyfifty Strassenmagazin (Düsseldorf)
–> "WORLD TOUR" T-Shirt
Pivo Bar (Leipzig), Rimini (Leipzig), New Fall Festival (Düsseldorf),, Rooooom e.V. (Düsseldorf), Nest Cafe (Berlin), XYZ Design Festival, Manko Cafe&Workspace (Düsseldorf), Cafe Hüftgold (Düsseldorf), Mission Lifeline (Dresden), fiftyfifty Strassenmagazin (Düsseldorf)
… more to come
You need support?
Send us an email with the following information an we'll get in touch with you as soon as possible.
Your name
Information about your project
The business/sector you work in
Your business PayPal-address
Give us a moment, while we look at your submission and decide, if it makes a good fit with SYLD.
We reserve to curate the selection of projects that SYLD supports, SYLD being a non-profit run intervention project itself, only having very limited resources and capacities.
Mail to: info@t-h-e-k.com
You want to support others?
Pre-order your T-Shirt now, give your money to people and organizations, that need it and get your T-Shirt within the next weeks.
You want to be a sponsor?
This project is non-profit.
We handle all costs on own risks therefore we are interested in collaborating with good brands, projects or organisations who support the same values we do. No Sexism. No Racism. No Hate. The graphic print of the "Support T-Shirt" has space for your logos or your claims.
Please get in contact via info@t-h-e-k.com or Instagram
Background
"Solidarithek" is a non-profit organization and our way of dealing with the current crisis, with jobs disappearing and small businesses and creative ventures struggling big time. If you want to get to know us, collaborate or talk, meet us on Instagram or write us to info@t-h-e-k.com <3
The non-profit organization "Solidarithek" is founded by people from different fields of work: Freelancers from arts and culture, hospitality, non-profit organisations and the collective Studio_thek from Berlin and Düsseldorf.
You want to be part of "Solidarithek" and represent the SYLD-Project? Write us a mail. Everyone welcome <3
Friends
If you want to support other projects as well, please follow the link below and check out our list. All listed projects have the same purpose as SYLD: Supporting those which are negatively affected by the Corona crisis.
Thanks to all of them for acting and thanks to you for supporting us and/or them!
ARTISTS INVOLVED
Thanks so much for the wonderful diverse and international artists who submitted their artworks: Big Up to Anja Kaiser (Leipzig), Balcony Boys (Melbourne), Been.Laden (Jerusalem), BüroBumBum (Berlin), Charlotte Rohde (Amsterdam), Chez Pawel (Berlin), Christophe Synak (Berlin), Chndy (Riyadh), Dan Künzler (Basel), Dinamo Typefaces (Basel/Berlin), Deniz Weber (Berlin), Eike König (Berlin), Electric Uwe (Leipzig), Emirhakin (Earth), Fresh Max (Vienna), Forward Festival (Vienna), Gregor Maria Sahl (Cologne), Hans Berger (Cologne/Berlin), Ines Cox (Antwerp), Jack Young (Berlin), Jules Durand (Marseille), Kiosq Supply (Düsseldorf), KJ263 (Düsseldorf), Lina Ehrentraut (Leipzig), Lilly Friedeberg (Düsseldorf), Luyu Zou (Hannover), Manuel Boden (Düsseldorf), Marco Cucuiu (Berlin), Marc Smith (Düsseldorf/Amsterdam), Marco Land (Berlin), Marcus Dixon (Newcastle), Massimiliano Audretsch (Düsseldorf), Max Fiedler (Düsseldorf), Studio Mirko Borsche (Munich) Morphoria Design Collective (Düsseldorf), Nikita Kusto (Berlin), Open Store (Basel), Othmar Handl (Vienna), (P) Patrick Mariathasan (Hamburg), Piotr Zapasnik (Berlin), Raoul Gottschling (New York) (S) Seb Holl-Trieu (Berlin), Selva Holiday Enterprise (Algarve), Sophia Krasomil (Leipzig), Studio Jimbo (Paris), Sports Club Official (Zurich), Superblast (Berlin), Swiss Typefaces (Vevey/London), (T) T-Data (Leipzig), Team Flightmode (International), (U) Uwe Bermeitinger (Hamburg), (V) Valerie-Siba Rousparast (Berlin), Victor Tattooz (Berlin/Bonn), (W) WTF Office (Berlin), Workout Services (Berlin), (X) Xavier Monney (Lausanne), Zwupp (Graz) –> more to come..
Thanks for your support by spreading the project on your channels: ItsNiceThat, Form. Design Magazine (Frankfurt am Main), Overkill (Berlin), TheDorf (Düsseldorf), Viva Con Aqua (Hamburg), Millerntor Gallery (Hamburg), Backspin Magazine (Hamburg) & Molotow
If you like to share our project and idea, you find all infos and graphics HERE.